MailChimp Certified Experts: API, Plugins, Subscribers, Lists and Campaigns
Being MailChimp certified expert, we understand that top-notch email delivery matters to your business. And what better way to approach this than to pay a small monthly fee to MailChimp.
What is MailChimp?
MailChimp is an online email sending service that provides great service and very popular with website owners and developers. MailChimp do not host your email for you. But they will take care of the following things for you.
Provide signup and subscription forms that directly save data inside your MailChimp account
Design emails to send to your clients and users
Ready templates to choose from if you want to speed up design
Secure area to manage all your email subscribers
Put subscribers into lists to manage easily and segment
Manage email campaigns and follow-up emails
SMTP Server on-the-ready to schedule around-the-clock
Secure SMTP Server and 99.9% up-time SLA
Email engineers for technical issues when sending email
Provide multiple IPs for emails to be sent parallel
Add SPF, Dkim and Dmarc records for email authentication
Reputed email servers to minimize bounced emails
Monitor soft and hard bounces and clean up the subscribers lists
That's what MailChimp can you for you and more. It provides email delivery services as well as email template creation with design language variables you can control through your code. MailChimp sends the emails through their own IP addresses where they monitor delivery and email repute 24*7.
Who is a MailChimp Certified Expert?
MailChimp certified program was created by MailChimp to provide the clients a directory of companies and web developers who provide expert MailChimp integration services. The companies listed in the experts directory provide email design, delivery and MailChimp API integration services to web and app owners. MailChimp experts are not affiliated or owned by MailChimp themselves. However, they pass a certain criteria to become certified and approved by MailChimp.
The Right Software provide Email Marketing Services as MailChimp experts and have been recognized by MailChimp itself.
We have strong expertise with email design, MailChimp API, MailChimp campaigns and Mandrill integration. Mandrill is a MailChimp SMTP server if you just want to send emails without paying for bells and whistles.
We have integrated MailChimp with WordPress, WooCommerce, Laravel Framework, CodeIgniter, Shopify, CRMs, OpenCart, iOS /Android mobile apps and other custom applications. Here are the MailChimp development services we provide.
MailChimp Development Services
We can provide following best MailChimp Development Services to our clients.
Mailchimp with Laravel
MailChimp integration with CMS and Websites based on famous PHP framework Laravel.
MailChimp with Open Cart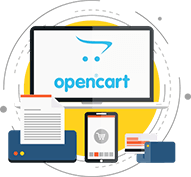 Send Abandoned Cart and Wishlist emails with MailChimp
MailChimp with WordPress
Develop WordPress plugins for your MailChimp and more.
MailChimp with Shopify
Shopify MailChimp integration and campaigns.
What if I want my own MailServer?
At the same time, we are also email experts if you want to setup your own server with MTA (mail transfer agent) such as sendmail, postfix and PowerMTA (PMTA). We'll setup SPF, Dkim and Dmarc and verify that your emails receive 9/10 score in mail-tester.com services. We offer these services over Linux servers.
We also provide API integrations and list management with other mail services such as SendGrid, GetResponse and ConvertKit, visit our Email marketing services page.