NDT Reporting Software
Overview
The application is a reporting tool for RTD companies delivering technical assurance through non-destructive testing, inspection, and certification to the highly resourceful, energy consuming, utility and infrastructure industries. The NDT software allows management staff, technicians and clients of company to use online reporting and monitoring system for managing NDT reporting.
If your NDT inspection reporting has previously been handled manually, which is frustratingly, slow, and erroneous practice. Upgrading the process to NDT web-based software will accelerate reporting and approval, increase data security and make efficient analysis possible.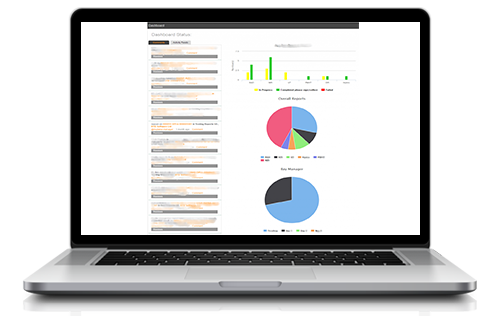 Which Reports you can handle in NDT Software?
Hydro (Hydro Testing) Reports
MPI (Magnetic Particle Inspection) Reports
DPI (Dye Penetrant Inspection) Reports
Gamma Reports
RAD (Radiography Inspection) Reports
PWHT (Heat Treatment) Reports
XRAY feature
UT (Ultra Sonic Inspection) Reports
Features
User management
The NDT software provides smooth user management to handle multiple roles for different categories of the users. Each role has specific privileges and access to the system modules.  The role of Manager is authorized to manage system users, create technicians and client roles. He can further manipulate projects, reports and view all activity feed and comments in the system. Whereas the role of technician and client is restricted to few system modules.
Work Flow management
To keep the flow smooth and unified, the role of Manager is authorized to create/view, start/delete reports, delete projects, view all activity feed and comments in the system. He can create notifications regarding any report/job and send notification to any technician for required signature. Manager can view Live tracker to access reports in start and during and on completion of job. Whereas the role of technician can start/view new and active jobs, view all reports and live tracker of job in progress and can assign/view reports. The role of client is limited to view related reports and personal comments.
Database management
The software also allows managers to edit /modify the database of reporting system. Database changes can be made during the job progress or after the completion of report. The entries that can be modified are project name, job number, spool information, weld information and information of technician.
Flexibility
NDT structure is quite flexible to attain maximum business goals , requirements and benefits. The procedures and processes of NDT are focused to design and develope the application for fast, reliable, and scalable reporting results. The software has capability to accommodate future enhancements and advance features.
Digital Signatures and Live tracker
The software has digital signature feature to ensures reliability and robustness of the system for NDT Reporting. The live tracker in system provides SVRC (S stands for "", V stands for "view report in progress", R stands for "required technician sign" and C stands for "view completed report") report view to managers, technicians and clients. Each role can view its respective reports according to the system permissions.
Responsiveness
The NDT software is fully responsive to work across all devices, screen resolutions and platforms. Clients can access the system from anywhere over the internet. We also provide an offline solution for the clients who do not have access the internet or need a system that works off any PC. The Windows-based system requires an online service to submit reports to the system. It is compatible with:
Internet Explorer 9+
Firefox 11+
Chrome 17+
Safari 4+
Save Time and Money
The delay between inspection and final report is reduced through NDT reporting system. Also the whole process is simplified and speedy and smooth, it reduces the output time. Reporting made easy and client and view previous reports for editing and consultation that saves resources as well as cost. This application also help save money as being an IT solution it cuts down print costs of paper-based system . NDT software allows clients to edit live reports and reproduce reports eventually saving time and money.