What is Mobile App Development?
Mobile app development focuses on creating mobile apps that you and your business customers can install on their mobile phones to get a better custom experience of your services. With enormous numbers of mobile users all over the world, no one can deny the significance of having a mobile app for offering services or creating awareness for your niche.
Smart phones make online purchases, connect with communities, book holidays, tap into news, make appointments, do banking and help us with e-learning on daily basis. Everyday people are coming up with killer new apps and making fortune by launching them.
At The Right Software, we design and develop mobile apps for both ecosystems of Android and iOS operating systems. According to latest research, 99.6 percent of new smartphones run Android or iOS. It is only logical to focus on two mobile ecosystems.
We also create responsive web designs and convert existing ecosystems into mobile friendly versions.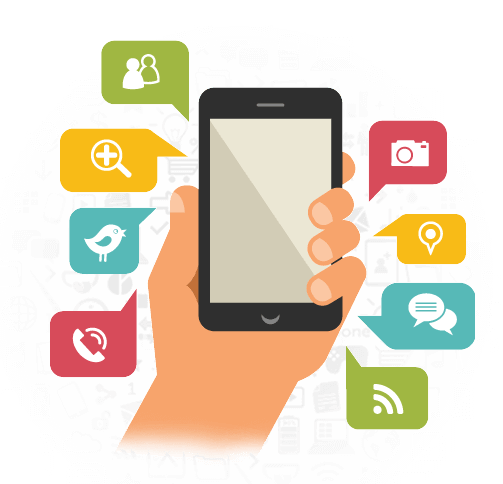 Our Mobile App Development Services
Our mobile app developers are skilled in creating feature-rich mobile development for Android, iOS and HTML5-based platforms. Our team of mobile app development experts have intensive experience of mobile app development using technologies of X-code, Swift and Objective-C for iOS; Android Studio, Java and XML for Native Andorid apps; HTML, AngularJS, HTML and CSS for HTML5 shell apps. Outstanding features that we have built for previous apps include GPS tracking, push notifications, payment method integrations, security, online transfers, in-app purchases, live chat etc. We stay connected with our clients throughout the app development process till the apps are uploaded to Apple store and Google Play store. We also offers app usability, support and maintenance services.
Our Work Guarantee
Our team will make sure to follow the work guidelines for impressive delivery of work. Please visit our client area to view the list of company that we have supported.
Adherence to time and budget constraint
Project Manager with 10+ years of mobile app development experience
Code quality assurance and code reviews
Code and asset backups
Product Follow-up and bug fixing
App hosting on Apple store and Google Play
Ready-made apps saving client time
Our Sectors
We have worked with our services across different industry verticals. Through our services, businesses were able to solve their organizational challenges, engage the audience and improve sales. We have expertise in the following sectors
Sports Coaching and Fitness tracking
Educational and Informational Apps
Energy & Utilities
Financial Services & Calculators
Travel
Retail & consumer
Platforms We Excel At
We work with these technologies, platforms and design languages.