NDT Reporting Software Overview
The application is a reporting tool for NDT companies delivering technical assurance through non destructive testing, inspection and certification to the highly resourceful, energy consuming, utility and infrastructure industries. The NDT reporting software allows admin, manager, technicians and clients of your NDT company to use online reporting and monitoring system for generating and managing NDT reports. If your NDT inspection reporting has previously been handled manually through excel spreadsheets, which is frustratingly distributed, slow, and erroneous practice. Upgrading the process to NDT web-based software will accelerate reporting and approval, increase data security and make efficient analysis possible.
With our NDT Reporting software, we'll take care of your files and database for you. We'll setup the system on a separate cloud instance or on your current web hosting.
Pay only for results
Provide better NDT
Provide better NDT reporting and feedback to your customers with custom solution specially designed for your company.
---
Benefits of investing in NDT Software?
We know. This is a considerable mental and financial investment away from your current way of work. But, we also know that this will stand you in a better place in years to come.
---
---
---

Hydro (Hydro Testing) Reports

MPI (Magnetic Particle Inspection) Reports

DPI (Dye Penetrant Inspection) Reports

---

RAD (Radiography Inspection) Reports

PWHT (Heat Treatment) Reports


UT (Ultra Sonic Inspection) Reports
---
NDT Reporting

Work Flow management

User management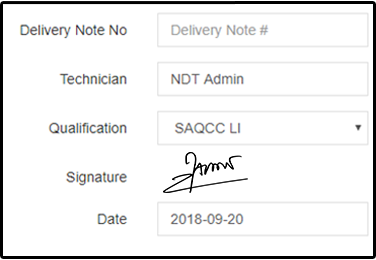 All reports have digital signatures built in. Users can take care of their digital signatures from their profiles. Admin can have control of all signatures finally.
Your NDT software will provide real-time notifications to all users. These notifications are great help when you don't want to email on every step. Simply checking the notifications bar will make users up to date with the reports.
Frequently Asked Questions (FAQs)
1. What makes your NDT solution better?
We have a smart web team and as such, we are adding more features to the solution as we go along. Currently, we have features that are baseline to all NDT operations. Here are the features that we are currently offering.
4 users roles: Admin, Manager, Tech and Client. These roles are configurable and one man can have multiple roles if you want to setup your organization that way.
Jobs: You create jobs and add job requests as well. Job requests can allow you to create more than one reports of same type in one job.
7 types of NDT reports. They are laid out in such a way that tech can select from dropdown for values or put in his own values. We can add more.
Report Reviewer: Reports are approved by reviewer so double signatures are the norm. Notifications: real time notifications and activity log
Export reports as PDF.
Many more small goodies built-in.
2. Are there more features coming up?
We have the following features in pipeline.
More NDT methods
Job invoices
Mobile app solutions & non-internet offline sync support
Better searching overall
Cloud solution for monthly subscription
3. What is the cost of your NDT reporting software?
We have modeled our price after the number of reports and how much customization is required. A rough idea about the price to be around $500 per report type. We are open to monthly or annual subscription models. So if you have 7 reports in your company then the cost should be $3000-$4000. Or we can amortize is to be $100 per month on a two year contract. You can discuss with Sales for a better costing model depending on your requirements.
4. What are the payment models?
We usually pack all information into the client hosting to deploy a copy. The database management is another name for a custom solution that is hosted on the cloud privately for each client. We have the knowledge for a monthly/annual subscription model as well.
5. Are there any other NDT software costs?
The only extra cost after initial setup is the hosting. We recommend a small private cloud for hosting. That is around 20-30$ per month e.g from a 
good hosting company
. This is a highly advanced piece of web software and as such requires latest hosting package. We can set this up on a VPS – not recommended on a shared server though.
Meet our customers and read their opinions
Paolo Rinaldesi
Owner, Clepsydris.it
The Right Software is a valuable partner that supports our business towards the targets.
David Ball
Owner Media Force Ltd, UK
I have been working with The Right Software for the last year and must say that the service and quality.
Pierre Askmo
Owner, Certblaster.com
Every developer we have worked with, at The Right Software, has been as dedicated as talented.
Round-the-clock Availibility
Our support staff is available 24/7 to take support calls and messages from clients.
100% Client Satisfaction
We involve client in all stages of software development to deliver satisfaction and peace of mind.
Technical Process
We hire developers that are technically strong and discuss the project thoroughly before starting.
---
Money Back Guarante
If you are not happy with the quality of work or we fail to achieve final technical goal, we'll not take your money.
Long Term Commitment
We have worked with some clients for over 7 years. Our commitment and dedication is a matter of pride for us.
We Care!
We care about your investment. We will tell it straight if you are making a bad decision.
Get free pricing
We will get back to you through email or call within 1 business day.
---
Email us at:
Or call us at: