Why is WordPress still the best CMS in 2017?
CMS stands for content management system and any web software that provides the out of the box services and easy of use is what the customers will prefer. There are CMS like Joomla, Magento, Typo3, MODx and many more. Please note that a CMS is different from a framework which provides a set of tools for programmer to built on top of. Famous frameworks are Laravel, CodeIgniter and more. Here we'll discuss why WordPress is still the best CMS in 2017.
1. Most Popular
WordPress runs more than 28% of the internet websites. That's almost 60% share of the CMS demographic. Its popular because of its intuitive. Even non-technical people feel welcome and taken in by the experience. The use of WordPress will increase with time.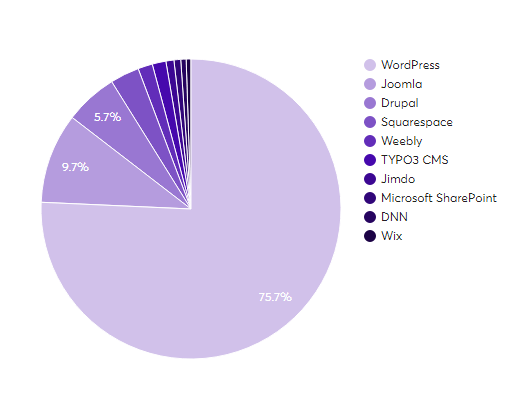 2. Free Download
There are CMS that provide basic functionality in free version and then an advance version which is premium such as Magento or MODx revolution. This is not the case is WordPress. It has always been free.
3. Easy to Host
Most hostings provide WordPress out of the box. You do not have to download or upload WordPress software, setup its database and make changes to the config files. It is done by most managed hosting providers e.g. those running Cpanel. WordPress hosting choices are limitless.
4. Easy to Setup
After installation, WordPress runs a wizard that is easy to under. The website setup after installation has a ready admin panel. You can change site URL, title, homepage, logo, url structure and alot more with ready made admin pages.
5. SEO Friendly
WordPress was the game changer in search engine optimization (SEO). All URLs come with ready slugs where you can highlight the page theme and tell Google what to expect. Similarly, the new pages created with your WordPress site are easy to remember and share.
6. Theme Choices
With WordPress you get 100s of thousands of themes in free and paid (starting from $10) from ThemeForest and Create Market. These themes take away the headache of early setup. You can be up and running with the whole website in 15 minutes. The theme development has become an industry with whole software companies running on just developing WordPress themes. You can hire web design services from The Right Software which eventually lead to WordPress themes.
Related: Why hiring a software development company is better than hiring a freelancer?
7. Plugins
What WordPress doesn't provide out of the box, you can always drop in with third party pieces of code called plugins. You can add ecommerce to your WordPress website with WooCommerce, SEO help with Yoast or All-in-one SEO, page speed with WPCache. You can send bulk emails through MailChimp for WordPress and other APIs. We also develop WordPress plugins for our clients and web in general.

8. Healthy Community
Internet is full of help for WordPress users. You can ask all kinds of technical and non-technical questions over the internet. You will find web development companies to take the WordPress tasks from you very easily. This is not the case with some of the other CMS.
WordPress web developers cost relatively less as the amount of work is too much as well as easy to configure. Its easy to repair and patch up a WordPress website if you know what you are doing. Or you can hire a WordPress development company as well.
9. Regularly Updated
WordPress is now up to version 4.8 and this has been a journey of more than 14 years. You can check on WPBeginner the whole history and how it came about.
10. A Word of Caution!
Being popular has its price. WordPress has been constant target for world's hackers. WordPress is constantly plagued by web security issues and faces all kinds of threats like WordPress website being hacked, content injection and more. You must keep passwords difficult and your website patched up  with latest releases.
Related: Rescue Hacked Websites Service
Overall, there's nothing like WordPress for a content management system. Our own website The Right Software is developed in WordPress. We love it and make updates to the core and plugins and functionality regularly. If you are looking for the best CMS for your new web project, look no further than WordPress.